If you're looking for a new electric wheelchair, this guide should help you make an informed decision!
There are so many different types of electric wheelchairs and it can get pretty confusing.
This guide will walk you through the main features to consider when buying yourself a brand new electric wheelchair in Malaysia.
We'll also discuss some basic tips to keep your chair in top shape and how much each type of wheelchair will cost you on average.
If after reading this guide, you still have questions about which electric wheelchairs might be best for your needs, feel free to contact us or whatsapp us at +6019-218 6941
What is an electric wheelchair?
An electric wheelchair uses batteries to move the chair. Unlike manual wheelchairs that require the user's strength or caregivers to propel, electric power wheelchairs are operated via a joystick or some other type of controller to drive movement. People living with physical challenges of any kind caused by aging, injury, disability, or illness, can benefit from the use of a motorized wheelchair.
Someone You Love Might Need an Electric Wheelchair
Electric wheelchair are used by
people who can't walk, or
have difficulty in moving around,
need the power to get around on their own.
The most common reasons why someone you love might want one of these chairs include:
An elderly person who can no longer manage stairs or long distances on foot
Someone with chronic pain, such as arthritis, that makes it difficult to stand up
A person with a disability who is unable to walk for any distance
A person with an injury to their spinal cord or brain, such as stroke which cause paralysis in some limbs;
Someone who needs help getting around for short distances
An older adult whose balance is impaired and cannot walk more than a few steps without assistance
Someone recovering from surgery that leaves them temporarily unable to walk
People who are paralyzed from the waist down but still have some movement in their upper body
Anyone who has difficulty walking due to illness or medical condition (such as Parkinson's disease or multiple sclerosis)
Anyone living independently with low self-care abilities or limited physical capabilities
Multiple Sclerosis (MS) which causes muscle weakness and numbness;
Cerebral palsy – where brain damage impairs movement control over part of your body from birth;
and many other conditions too!
Benefits of having an electric wheelchair vs classic wheelchair
Portability – Easier to move around vs classic wheelchair
There are many different types of wheelchairs in the world, some of which have different utilities. Most wheelchairs can agree on one thing. They are powered by electricity and can be portable. Compared to Classic wheelchairs, they are going to be much heavier, but not as heavy as one would think. The wheelchairs have a weight of up to 20 kilograms. It would take around 4 gallons of paint to put that into perspective.
Durability – The longer the lifespan, the less need to replace the wheelchair, you save more money in the long run.
The longer the lifespan, the less need to replace the wheelchair, you save more money in the long run.
When it comes to purchasing a product online, its hard for you to judge its quality. Due to dishonest sellers, some products tend to use cheap materials. This affects trustability of a product.
That's why we do suggest you get your motorized wheelchair from a reputable seller. An easy red flag to spot is when see an electric wheelchair being listed very cheap in Shopee or Lazada. I can almost guarantee you 9 times out of 10 something important is missing, and this wheelchair will not last long.
You get what you pay for, For example:
motorized wheelchairs are made with sturdy materials. Compared to Classic ones, they take longer to degrade and rust. It's more worth it to get a motorized wheelchair in the long term. Imagine having to replace a wheelchair after using every 1 to 2 years… what are the cost, compared to an electric wheelchair that lasts sometimes 5 to 8 years?
Efficiency – save time and energy of both patient and caregiver
The motorized wheelchair has an efficiency aspect. Motorized wheelchairs can be powered without pushing. It saves time for people who need to take care of people in a wheelchair. If you get a classic wheelchair, the disabled will find it hard to use it. This is every more difficult if the disabled has no upper body strength to push the wheels themselves. This is very hard if they are going up a slope or going long distance.
It's easier for patients to be transported on and off the motorized wheelchair if the wheels themselves are put in. The classic wheelchairs require the patient to stand on two feet forward in order to leave the wheelchair. Patients who need to have swelling on their legs may be affected by this. A lot of effort and strength is needed to carry them up.
Without our motorized wheelchair, this won't pose a problem. You can move your patients feely with the help of the detachable sides. Lift the sides up, and your patient is good to go.
Comfortability – comfort is important, especially if you spend most of your time on the chair
Most people neglect this but it's important. The material of the seats will affect the satisfaction of the user. Most people who have never used a wheelchair make this mistake.
The seats of Classic wheelchairs are made of woven cloth but without cushion. The motorized wheelchairs have cushions to make them more comfortable. Also, you can always return your cushions to us for a refund if they are in good condition.
Some motorized wheelchairs come with an extendable headrest. It's not included in all of them but having it as an extra would be neat. That does mean an increase in price.
Make more places accessible
Electric wheelchairs can be used indoors or outdoors to provide constant support for people who need them. The chairs have a tight turning radius which makes them ideal for smaller spaces. You can reach heights you may never have thought possible in a manual chair. It's easy to access steep inclines and tricky terrain, which may deter users from taking a certain path. A smooth ride on ramps and hills can be achieved with a series of electric wheelchairs that are 16-inch rear-wheel drive.
Types of electric wheelchairs
There are many types of motorized wheelchairs, some of which are
Travel Onboard Electric Wheelchairs.
Folding Electric Wheelchairs
Heavy Duty Wheelchairs
Lightweight Electric Wheelchairs
Each wheelchair serves a different purpose for its users.
Let's go through them one by one.
Travel Onboard Electric Wheelchair
Most suitable for: Travellers who use aeroplanes
First on our list would be the Travel Onboard Electric Wheelchair.
Small, light and efficient- these are the qualities that you can expect when purchasing a travel wheelchair.
These wheelchairs were built with portability in mind.
So if there is any narrow passageway on your plane or just simply not enough room for everyone to sit down comfortably during transit, then this shouldn't be an issue anymore!
Folding Electric Wheelchair
Ah, now this one is a classic – Folding Electric Wheelchair.
Most suitable for: Everyday Use, those who like to travel with car
There's a reason why this model is the most popular one.
Manoeuvring this chair around is easy and it has features that are able to keep anyone feeling at ease while using it, such as being lightweight or having an adjustable height for comfortability purposes.
Furthermore, many find these chairs appealing due to their affordability in contrast with other models on the market- they have everything you need without breaking your wallet!
Another cool feature about this is that they look relatively cool. Unlike your boring electric wheelchairs, this one is built slightly different with different designs.
Hold on! They aren't just for looks, you know? Each of these designs serves a different purpose and should be researched.
Heavy-Duty Electric Wheelchair
Most Suitable for: Overweight people
Have an overweight friend or family member?
If so, the Heavy-Duty Electric Wheelchair is the best choice for them.
Unlike other electric wheelchairs which can only support a certain weight limit, this one supports more than enough to comfortably accommodate your needs.
Most typical electric wheelchairs are manufactured to be of average size – but what if someone were of larger size instead? Surely they wouldn't want their cramping themselves on something too small!
By acquiring a heavy duty wheelchair like this one, you will have no problem moving around and being happy with life just as everyone else does; making it perfect for all sorts of people from big-boned adults to even children.
Light Electric Wheelchair
Most suitable for: Indoors, and Everyday use
The Light Electric Wheelchair is the lightest wheelchair on the list.
What's so good about it?
This wheelchair is very compact and easy to store. They can be placed in the boot of a car.
This chair has a turning circle of roughly 1m. This means you have access to a wide variety of locations. Such as:
Use inside your house
Smaller shops with tighter isles
Manoeuvring through tight, awkward pathways
They also tend to have excellent battery life. This usually ranges from 5 – 25 miles on a single charge.
Another benefit is that this wheelchair is perfect for use indoors. It can fit through standard doorways in Malaysia.
This wheelchair is so light that it can weigh only 15kg, including its battery. Just to let you know, the lithium battery provided already weighs 2.5kg. That's actually a lot of weight saved.
Things to consider when buying your first electric wheelchair in Malaysia
When you are looking for a new electric wheelchair, it's always smart to consider these points before making a decision.
Always Try Before Buying
When purchasing an electric wheelchair, it is important to know what you are looking for and which features best suit your lifestyle.
When possible, be sure to test drive the model before buying! Most companies who sell electric wheelchairs often allow customers to pop in and try their wheelchairs.
When you can't visit the company, make sure to read their return policies thoroughly. They often allow for returns within a certain amount of time!
The Price
The first instinct of most buyers is to find the cheapest one. Some considered getting one that was second-handed.
It is said that you get what you paid for. This applies to electric wheelchair.
if you invest more in the wheelchair, you tend to get better quality in return, provided that you get it from a reputable seller.
Having said that, try to purchase one that you can afford. You wouldn't want to spend a whole month's income on an electric wheelchair to use for a month now, would you?
why are some electric wheelchair so expensive (RM2000 above), but some are cheaper?
A vast difference in pricing depends on the battery used whether it is a lead acid or lithium. A wheelchairs that uses a lead-acid can be charged up to one year, but those who use lithium batteries are able to charge for two and even three years!
After Sales Service – Are there any repairs and service provided?
Are there any warranties on repairs and services that they provide, as well?
Does the company offer service plans for when your product needs repairing or maintenance?
Like any other technology out there, electric wheelchairs are bound to deteriorate and break down.
Parts wear out over time so it's important that the company you bought your wheelchair from offers services for replacing them when they need to be changed or repaired.
Guarantees, warranties and return policy
Are there any guarantees that come with the product, such as money back or replacement if it breaks down within a certain timeframe?
What are their return policies like if you don't like the product?
Is there a certain amount of time that you have to return it, or is it just within the first few weeks and if so, what happens with your warranty after those days are past? They can vary from company to company.
What are your needs…Size and Weight..Traveling..Indoor or Outdoor?
Another thing to consider is which wheelchair type suits your needs.
Different electric wheelchairs can solve other problems.
It would be pointless to get one that is too expensive but not suitable.
Before you buy your new electric wheelchair, consider the size and weight.
Some wheelchairs come in a heavier design that may take up too much space or even be to heavy for transportation.
If you like travelling, there are specific types of chairs designed just for it!
What type of terrain will the chair be used on (elevations, hills, etc.)
Will the chair be used outdoors or indoors primarily?
It gets complicated. A good company and their sales rep will help you make the right decision that fits your needs while at the same time, meet your budget.
Avoid these common mistakes when buying an electric wheelchair online.
Not buying it from a local Malaysian reputable electric wheelchair company that provides after sales support
A local dealer will have expert knowledge about their products and offer prompt, personalized after-sales services like repairs and maintenance.
Buying a chair online without testing it out and checking its feature
When you see a picture of the product and then are able to see it in person, there will be a noticeable difference.
You are not able to test out the chair before you buy it, meaning that you won't know if the chair rides smoothly or is comfortable. Will you be able to fit in the Heavy-duty wheelchair or lightweight wheelchair?
It is important to ask questions when buying online. When talking with a salesperson, make sure they inquire about your height and weight before making any recommendations. Some are quick to sell you anything just to make the sale.
Nevertheless, finding out it does not work for you and having to return the item is a frustrating experience. For instance, you may have to pay a restocking fee! Fortunately, Fresco bike has a showroom to allow you to see the variety of electric wheelchairs from lightweight, foldable wheelchair to heavy-duty power wheelchairs.
Buying a used wheelchair with no working batteries
Many people don't check for functioning batteries before buying an electric or motorized chair, but this can be costly mistake. If you buy a second-hand one that isn't tested first and it turns out there is something wrong like bad wiring, then the cost to repair will come from your own wallet on top of any money wasted by selling off what was originally in good condition!
And, of course, the person you are purchasing it from carefully explains to you that all it needs is batteries (and had been working a year ago before the unit's batteries died). You end up buying a pair of batteries, install them, and when you turn on the unit, you find out that the lights turn on but the chair is not moving.
A few different things could go wrong with the chair. The person you purchase it from might not have known about them, and they may refuse to refund your money in that case. After spending money on a used electric wheelchair and purchasing new batteries for the motor, you notice that the chair does not work. Good thing Fresco Bike is a repair electric wheelchair center and can assist you in resolving these types of issues.
Purchasing a wheelchair from another country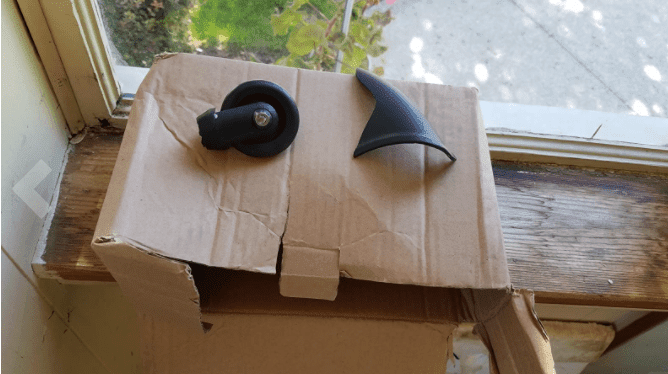 Buying a mobility scooter or electric wheelchair from another country can be troublesome.
They won't come as a whole but need you to assemble the pieces yourself.
What if some of the parts are broken? Nightmare!
Parts for these machines are only available in the country they're manufactured and assembled in, so try to purchase them locally if possible.
Before you buy a mobility scooter, make sure that the parts are easily available if they need to be repaired or replaced. Make sure the company that have an address, phone number, or email.
4. Not consulting a professional
If you are looking to buy an electric wheelchair or mobility scooter, be sure to know about the features, durability and limitations before signing.
Talk with the salesperson who deals with this equipment in your area for help so that you can ensure that your purchase is a good fit for your needs.
5. Purchasing from random strangers on mudah.my instead of a reputable company
Search for a service near you that provides reliable mobility scooters for sale instead of going to a garage sale and not knowing anything about it
Don't buy from a place that doesn't provide after-sales service, repairs or spare parts.
A local dealer will have expert knowledge about their products and offer prompt, personalized after-sales services like repairs and maintenance.
6. buying an electric chair that is too big or too small for your home
If you choose the wrong type of wheelchair, it's a big problem. You can't use it in the house, and there's no place to store it. A good Malaysian electric wheelchair company will have a good exchange or return policy. They could even deliver the wheelchair to your house and teach you how to use it. All these could've easily be avoided if you buy it from a good electric wheelchair company in Malaysia.
The problem comes when we buy a wheelchair online. There is no way to return the wheelchair after it is delivered to your home.
What to look for in a reputable company that sells electric wheelchair
The world of electric wheelchairs is a vast and complicated one. There are many companies that sell them, but it can be difficult to find the right fit for you or your loved one. Here are some important things to look for in a reputable company:
Are they a local Malaysian company?
It is important to buy from a locally established company. If your wheelchair is imported from a foreign company, you can't get any after-sales service, repair, spare parts or anything else.
Ask the company should have a clear and solid warranty, service, and return policies
The company should have a warranty for the products they sell, and be willing to provide their contact information in case you need them after purchasing your product.
Check the company's website for reviews and testimonials from other customers.
The company should have feedback from previous customers about their customer service, promptness of delivery and any other concerns or problems they may have had.
Find out how long they have been in business
A new company may not be able to offer you what you need
You should be able to find out how long the company has been in business and what kinds of products they have offered over that time. A new company may not be able to offer you a variety of electric wheelchairs with different features, warranties, or return policies.
Ask for a demonstration from the company before you buy one of their products to make sure it fits your needs
You should ask for a demonstration of the product from the company before you buy it. To make sure that it is what you need, see if they offer different models or sizes and can show them to you so that you get an idea of how well the chair works.
What are their customer service hours?
There are times when you may need customer service, and they should be able to provide it. If you can't find any information about when their hours are on the website or in person, ask them for more information before committing to a purchase.
Is there a live person available to answer your questions
If you need to contact customer service, it's important that they can provide a live person. You should be able to call and speak with someone who is knowledgeable about the product before buying it because there may be times when questions come up or technical difficulties arise after purchase.
Conclusion
We all want to get the best deal we can and it is natural for us to be extra careful about where we buy things.
Buying a used electric chair might save you money, but buying from an unreliable company will leave you unhappy with your purchase in the long run. When purchasing an electric wheelchair or scooter online, make sure that you are dealing with a reputable company.
It's always better to spend more on something that will last than waste money on cheaply made products that don't provide any value-added services such as warranties and guarantees. Remember when looking at reviews of different companies – if they have good reviews and testimonials then chances are their quality is high too!
We hope you've found this blog post on the benefits of purchasing a good quality electric wheelchair from a reputable company helpful.
If not, we want to know what else you would like us to cover in future posts! Just comment below or email us here with your thoughts and suggestions for topics that interest you most about our products and services.
In addition, if there are any other questions that have been bothering you throughout our content today, please feel free to contact us anytime as well. You can also find more information about all of our product lines by visiting electricwheelchair.com.my – it's just one click away!